About Us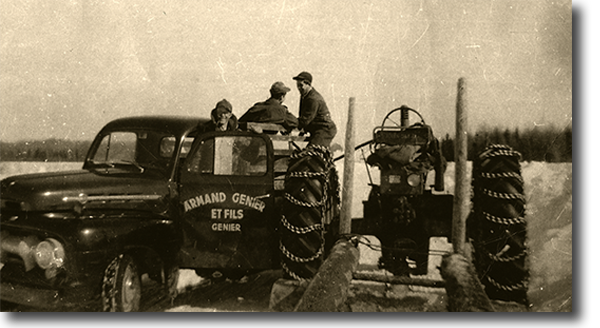 Incorporated in 1968, Génier Bros. Trucking Ltd. has grown from a Log Haul Contractor to a multi faceted General Contractor. Our range of work includes municipal, highway and forestry road construction, road maintenance, excavation, land clearing, equipment rental, municipal water & sewer, mechanized harvesting, in-bush chipping, Bio-Fibre grinding, bridge re-decking, bridge maintenance, bridge installations, bridge demolition and rehab, building demolition, pit rehabilitation, remote construction, Ministry of the Environment spill mitigation and transportation of goods throughout Ontario and Inter-Provincially.
We service our fleet of vehicles and heavy equipment in our facility in Cochrane, ON. We also maintain and repair other large carrier fleets.  Génier Bros. hauls in excess of 485,000 cubic meters (12,000 to 15,000 loads) of logs, wood chips & bio-fibre annually to various mills in North Eastern Ontario & North Western Quebec. Next to our fleet of vehicles, we hire private brokers working directly for us to achieve our contracts on time and on budget.  We are one of the primary contractors for Tembec and True North Hardwood Plywood Inc. in Cochrane; as such, we maintain all roads, bridges and signage for the woodlands.
Our scope of work includes harvesting; some of these contracts are in partnership with First Nation. We have worked extensively with Taykwa Tagamou, Moose Cree and Wahgoshig First Nation on numerous ongoing projects.
We have other ongoing projects such as hauling at mines sites, chipping and hog fuel production for Northland Power and Tembec.  Year round operation of bridge installation & maintenance, pad drilling and test pits for the exploration of minerals having worked with Lake Shore Gold Corp. and Detour Gold Corporation.
We also provide our expertise in Administration, Supervisory and in Health and Safety to many projects on a consulting basis.
Our workers are dedicated to the job, and continually strive to achieve our goals in safety, as such all employees continue to develop our Health & Safety Program, through continuous training, workshops and leadership accreditations.